Sea Purse
Dioclea reflexa

Note the narrow hilum (above), which
may be characteristic of Dioclea spp.
The above seed was sacrificed for planting, resulting in the sprout images, below.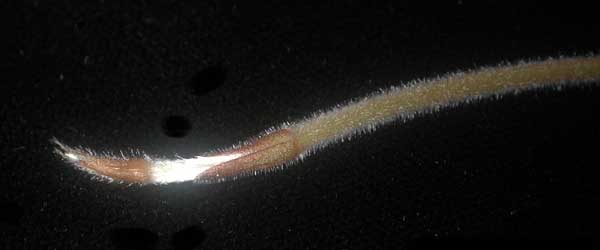 Note the very hairy stems on these new sprouts!

The following images are of a Dioclea reflexa seed donated by Ed Perry.
The seed was sacrificed, planted and sprouted, but the plant didn't last longer than some very young stages.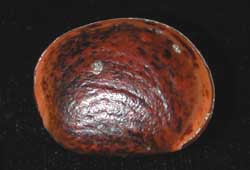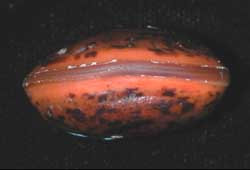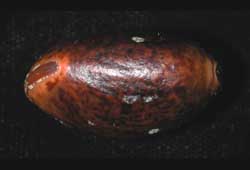 The following images are of
Dioclea reflexa
seeds from (left to right)
:
1.
Madagascar,
2.
Benin Africa, and
3.
Nigeria Africa.
Note the distinct differences in seed thickness and the extent and thickness of the hilum.
The leftmost seed, from Madagascar, is similar to the seeds that we find stranded in Southeastern USA.
PERSONALLY, I don't think that the African seeds are
Dioclea reflexa
because of the distinct differences noted.
Although the micropyle is at approximately the same location on all seeds, the hilum extends well into the "top" of the African seeds
while the hilum on the seeds from Madagascar (and those seeds found stranded in the southeastern USA) never reaches the "top" flat part of the "purse".
HOWEVER, I'm told that
Dioclea reflexa
is the only
Dioclea
species reported from the West African region of Benin and Nigeria.
ILDIS
reports
Dioclea reflexa
from Africa, Asia, Madagascar, and Central America and South America.
A.

B.

C.

D.

E.

These seeds come in a variety of color forms (see image, below). The speckled form, from each location, was selectively chosen for comparison purposes.
B.
Tthe seeds are oriented so that their "flat top" (the top of the "purse") is up and horizontal.
C.
These seeds are rotated slightly from those in image B, to show each end of the African seeds hilums, but the hilum in the Madagascar seed is not long enough.
In all photos, the micropyle is oriented to the right.
Measurements (mm) of seeds (left to right)
:
1
. Madagascar,
2.
Benin Africa, and
3.
Nigeria Africa.

See also:
How I measure seeds of Mucuna spp.
--- the same applies to
Dioclea
spp.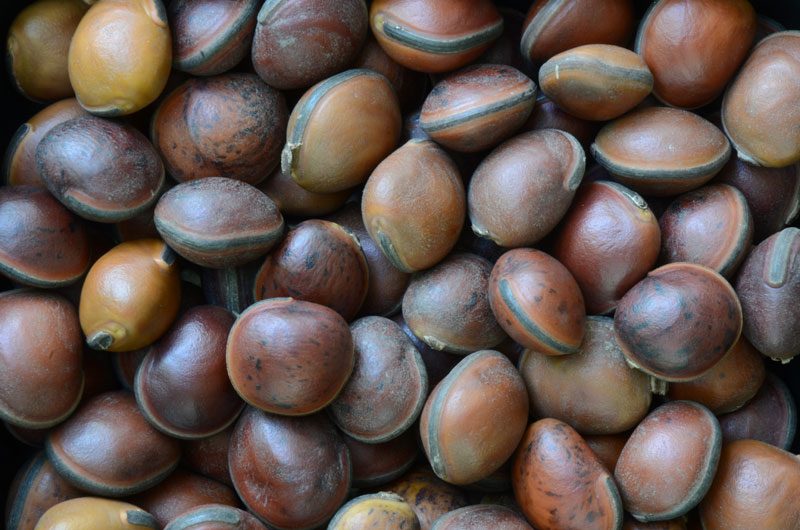 Dioclea reflexa
(?) seeds from Nigeria AFRICA.
Note the variety of colors and color patterns.

Links
Botanical Beads - photo of a Dioclea reflexa seed pod