Brainfruit, Donovan's Brain or Brain Bean
Andira galeottiana
These two specimens were collected on Texas shores by Nan Rhodes
Photo: Nan Rhodes
Other names used, in the Drifting Seed Newsletter, include Donovan's Brain and Brain Bean. However, these names less clearly reflect the nature of the entity as it is not a brain, nor is it a bean. It is a fruit that has the appearance of a brain and thus this website selects "Brainfruit" as the more appropriate of the common names used.

The trees that bear this fruit are native to southern Mexico.
The fruits wash down rivers to the Gulf of Mexico and are durable enough to make the float to Texas, still intact.
Longer distances traveled show rapid deterioration; only portions of specimens end up on Florida's shores... even then, only rarely.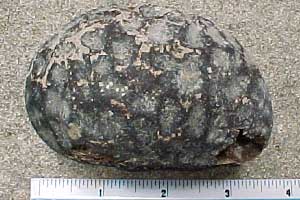 Photo: Ed Perry

In the Drifting Seed newsletter vol. 8(2):11, Ed Perry noted the occurrence of Andira galeottiana stranded in Florida (Indian Harbour Beach), but stated that they rarely arrive intact in Florida.
In this short note, Ed stated that he likes to call them "Brain Beans".

"Donovan's Brain" was also mentioned in the Drifting Seed newsletter vol. 10(1):10, and included the photo, immediatedly above by Ed Perry, which was also found in Texas. Ed Perry pointed out that the name "Donovan's Brain" is a common name made-up by Texas Drifter, Gerald Sullivan.

The Sept. 2003 article (linked below) seems to be the first time that the name "Donovan's Brain" was used in the newsletters. The name also shows up in the following lists (by Gerald Sullivan) of sea-beans from Texas:
Sept. 2003; Page 8: Drifting Seed Newsletter vol 9(2).
Dec. 2004; Page 11: Drifting Seed Newsletter vol 10(3).


A couple specimens of Andira galeottiana were sliced open by Paula Rose to examine their contents
and investigate what makes them rattle after being dried out.

The following photos show the very different interiors of the two specimens which had been found washed ashore in southeastern Texas, USA.
One specimen was relatively empty with several pieces of dried material; the other specimen showed a quite solid interior.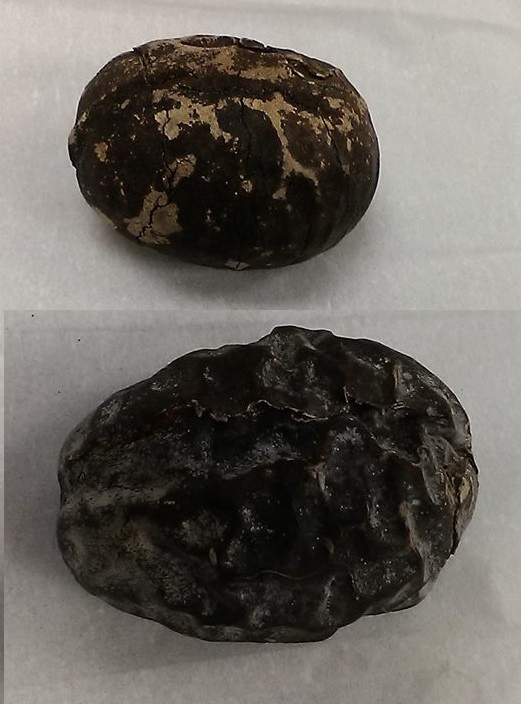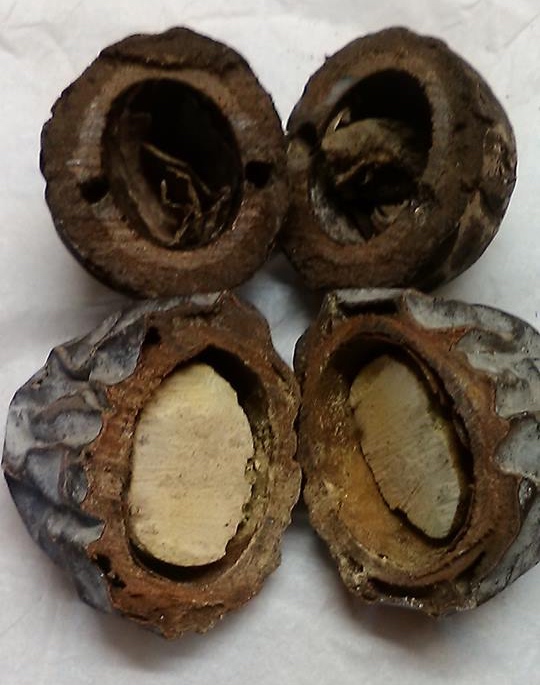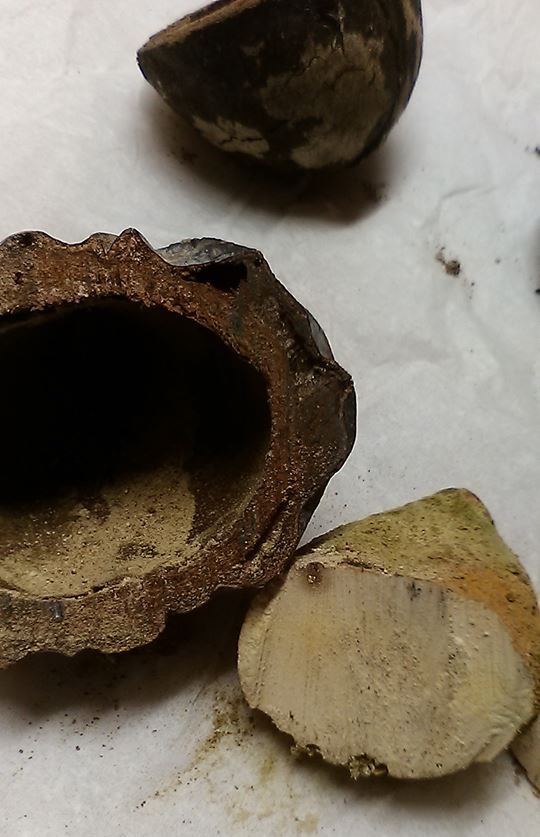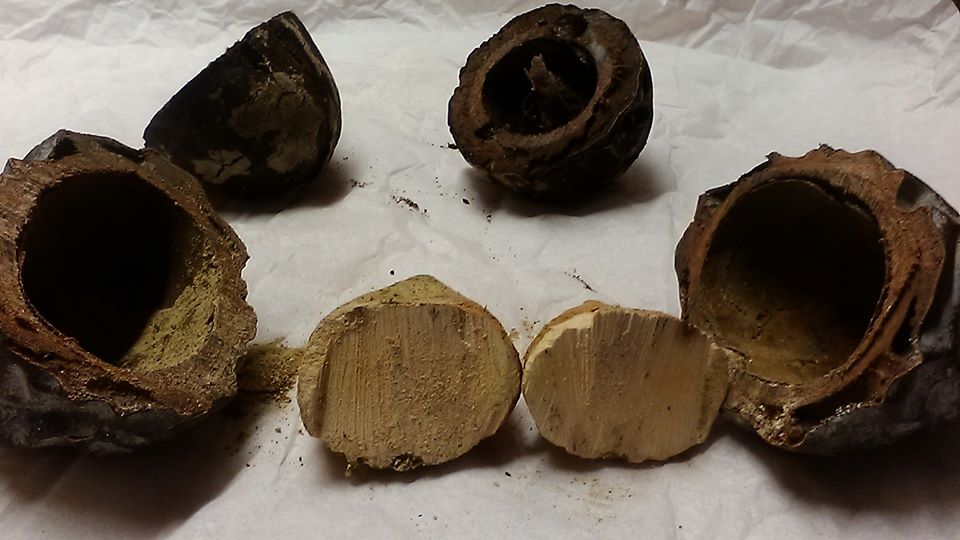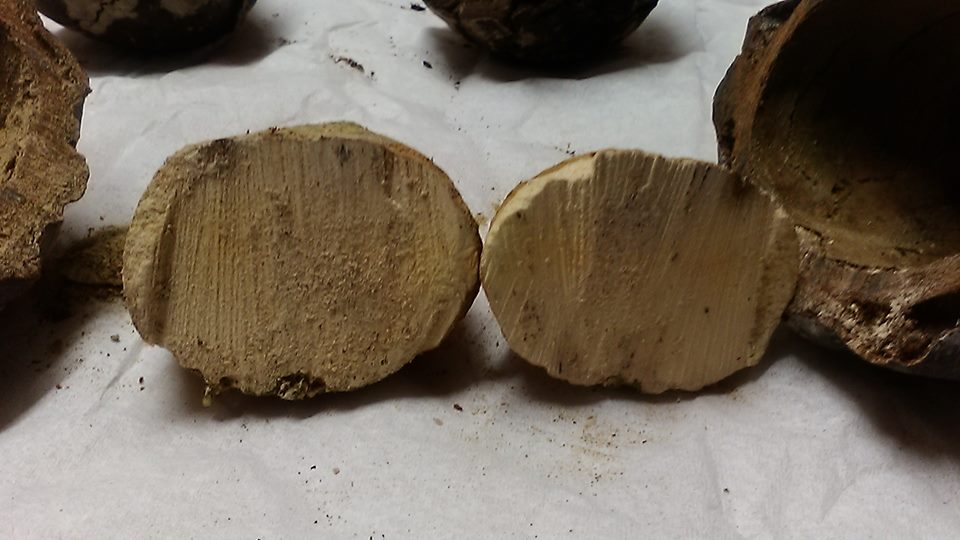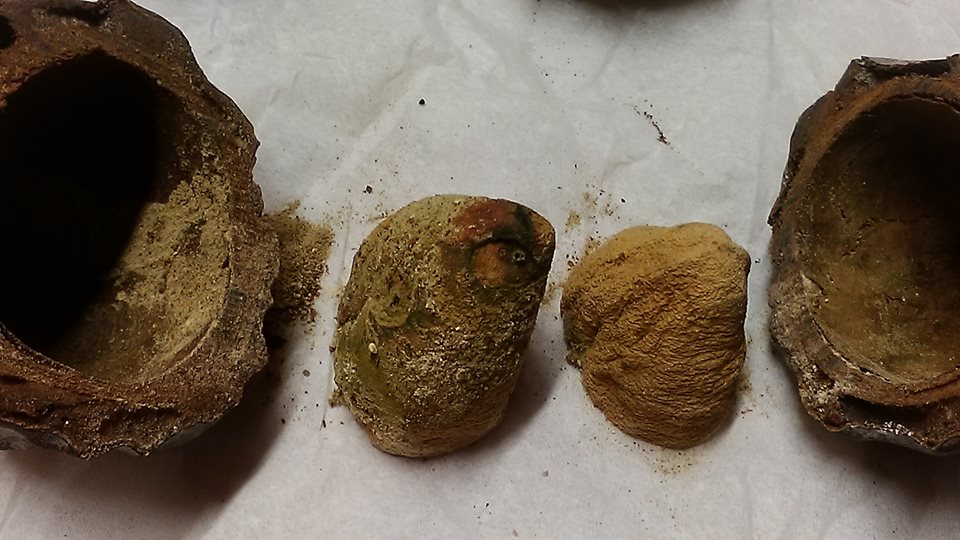 In this section, 6 photos © Paula Rose

Links
Texas Parks and Wildlife
IUCN Redlist of Threatened Species
-
Andira galeottiana
considered "vulnerable"

Return to Top

A Sea-Bean Guide: Brainfruit, Brain Bean (Andira galeottiana)
ALL web pages © www.seabean.com --- All rights reserved.
ALL photos © www.seabean.com or other photographers individually credited.
Use of ANY photo without written permission is prohibited!