| | | |
| --- | --- | --- |
| | | WHY SEA-BEANS FLOAT |

Images of sliced open sea-beans.
Many sea-beans have air pockets which assist with floatation.

Hamburger Bean
Mucuna sloanei

Seaheart
Entada gigas

Nickarnut
Caesalpinia bonduc

Golf Ball; Sea Coconut
Manicaria saccifera

Blister Pod
Sacoglottis amazonica
Air pockets are not the only reason that sea-beans float. Other drift seeds may lack air pockets, but simply be constructed of materials that are lighter than water. Note that sea water is denser than fresh water, because of the dissolved salts. Some seeds that sink in fresh water may be able to float in the denser sea water. Some seeds drop directly into sea water, or are washed off of beaches from oceanic waves. Other seeds that fall in the jungles will have to be light enough to first float in fresh water in order to make their journey down streams and rivers to get to the sea water of the oceans.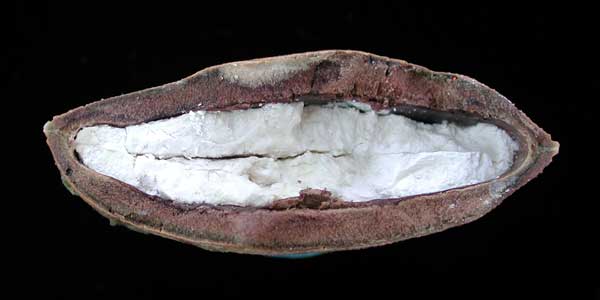 Close-up of interior of the Antidote Vine seed, Fevillea cordifolia.
This seed, although fairly solid inside, must be less dense than seawater... thus, it floats!


Return to Top