On June 6, 2018, Rui Louraça Colaço, a resident in Portugal, posted on the "Sea Beans" FaceBook group
that he had been attempting to purchase a book on drift seeds for a few years.
He eventually found a reprint copy of the World Guide to Tropical Drift Seeds and Fruits on eBay, an online marketplace for buyers and sellers.
With a truly incredible stroke of luck, that copy had once belonged to Cathie Katz!

Rui shared photos of the signatures and inscriptions found inside the book.
Those photos are also shared below.

The book is signed by Cathie Katz, and by one of the authors, John Dennis.
Note that the inscribed dates of October 22 & 23, 1999 were the dates of the 4th annual Sea-Bean Symposium.

The book is also inscribed by Ed Perry who mentioned being a fellow 3rd Avenue"r", as they both once lived on the same 3rd Avenue.
Ed perry was later (2003) to author the book: Sea-Beans From the Tropics.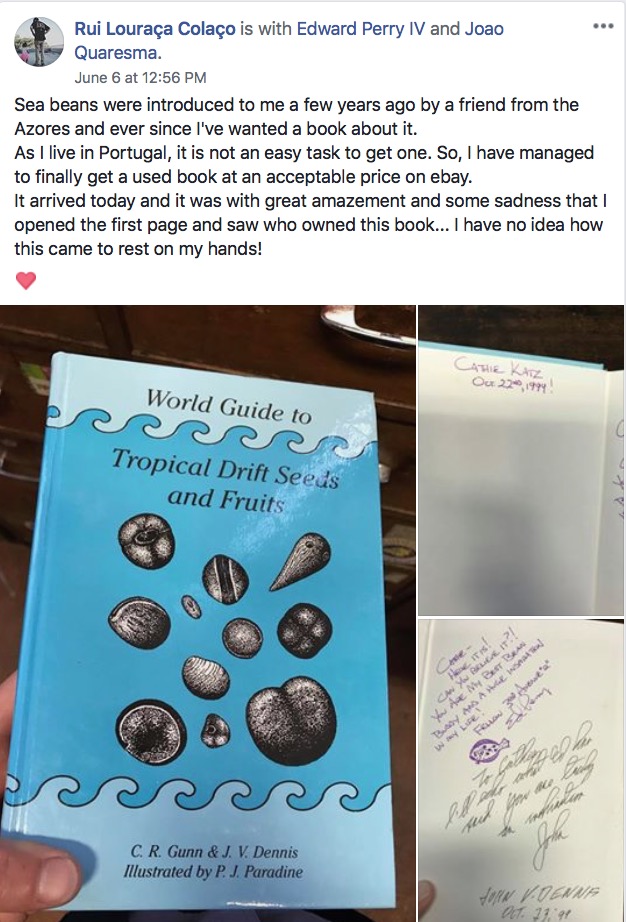 The following is an explanation, by Lisa Hutchinson (Cathie's husband's sister), of how Cathie's book ended up where it did.