Oct 16, 2002; 1:12 PM

Sea Bean Symposium honors its late founder


Organizers for this week's event name a seed after Cathie Katz

By Billy Cox
FLORIDA TODAY

Serious beachcombers love to share tales of strange deposits in the sand. The most unusual thing Dr. Curtis Ebbesmeyer ever heard of was a "one-armed gentleman, Caucasian, between 25 and 35," who turned up on a Hawaiian beach in 1982.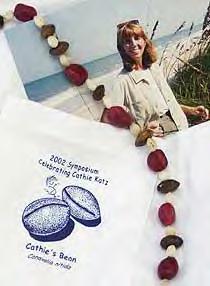 A seed has been named after Sea Bean Symposium founder Cathie Katz, top right, who died in November at age 52 after battling cancer. The red bean's official name is Canavalia nitida. Photo illustration by Michael R. Brown, FLORIDA TODAY.
"The good news is, he was wearing a survival suit," recalls the Seattle oceanographer. "The bad news is, he'd been drifting at sea for two years, and all that was left was a skeleton. So far as I know, they still haven't identified him."
On Saturday evening at the Cocoa Beach Public Library, Ebbesmeyer will be the featured speaker at the quasi-eccentric, Seventh Annual International Sea Bean Symposium, a gathering of scientists and lay people united by curiosity over the amazing and peculiar things spewed forth by the tides. But it will be a bittersweet reunion of old friends, since this marks the first year without its guiding light, Cathie Katz of Melbourne Beach.
Ecologist, artist, founder of The Drifting Seed newsletter, originator of the Sea Bean Symposium, and author of a host of environmental books, including the Sierra Club's "Nature a Day at a Time," Katz died from cancer last November at age 52. In tribute, Katz's friends and colleagues have rallied around her memory with -- appropriately -- a sea bean, Canavalia nitida.
"There are very few seeds that don't already have scientific names," says Ed Perry, a ranger with the Sebastian Inlet State Park, who continues to publish The Drifting Seed. "But this one is so rare, it doesn't have a common name, so we put it to a vote. Then, (natural history writer Dr.) Bob Gunn went into the database for all the seeds on record, and we've called it Cathie's Bean. It's very pretty, and you're lucky to find one. In fact, I've only found one in all my time on the beach."
Cathie's Bean is an elliptical, black-banded seed with a dark red, black or deep-tan coloration that begins its long journey to shores unknown from the West Indies. It is but one of countless varieties of natural debris dispatched by distant jungles to follow the ocean currents. The Sea Bean Symposium makes a big show of these sea-borne artifacts -- sea hearts, hamburger beans, fossil crabs -- and tries to educate visitors in the process.
"Cathie's work was all about making connections -- between people, the world, nature. She marveled over the connections," says Katz's fellow "Drifter" Sue Bradley. "And this was one of her favorite times of year, when the fall currents started leaving new things on the beach. We look at it as a celebration, because her work continues."
Ebbesmeyer was a charter member of the Symposium seven years ago, when his own Beachcomber's Alert newsletter was still in the planning stages and Katz's Drifting Seed was a year old. Immediately after talking with her in 1995, Ebbesmeyer sensed a kindred spirit.
Now 59 years old and entering his 31st year of contracting oceanographic services to hundreds of companies, Ebbesmeyer says he began cutting his salary a dozen years ago to spend more time with his quarterly newsletter and other environmental hobbies.
"I receive no advertising and no commercial funding -- it just presents a set of potential conflicts I'd just as soon not deal with," Ebbesmeyer says. "Somebody once approached me and asked if they could advertise in my newsletter, and I thought, no, I don't even want to go there, even though I couldn't see how this particular group and I would ever have a problem. If nothing else, an ad would just take up valuable space."
Some of those potential conflicts would appear rather vast.
Due to profit-driven policies of overloading vessels with more freight than they can handle, shipping companies are constantly losing cargo to rough seas, says Ebbesmeyer. His newsletter offers regular updates on the last reported whereabouts of everything from 50,000 Nike sneakers to 3 million LEGO toys as they follow the major currents around the world.
"Here's something to think about," he says. "Every year, the shipping industry loses 10,000 containers in the ocean. Not long ago, one ship lost a box containing 10 million plastic shopping bags that went overboard. It occurred in one of the migration lanes of the Pacific sea turtle. And there are only an estimated 100,000 of those turtles left."
But it isn't simply commercial interests that draw Ebbesmeyer's scrutiny. Try the National Weather Service.
"Every year, the weather bureau launches one million radio sonde balloons into the atmosphere to gather their data," he says. "About 200,000 radio sondes drop into the ocean, with a lot of electronics locked up in Styrofoam about the size of a shoebox. That really adds up after awhile."
Ebbesmeyer's favorite litter genre, however, are the old Japanese green glass fishing spheres. Manufactured in the 1960s for suspending fishing nets, they've long since been replaced by plastic. But currents still push them along, like lost little time machines.
"Mother Nature writes to us on the beach, with our own trash as well as everything else," says Ebbesmeyer. "And this planet has gone through some real traumas recently. I mean, in the last 50 years, we've lost over 50 percent of our Arctic ice cap, which has increased the amount of freshwater mass shutting off the deep bottom of the ocean.
"But I'm an optimist. My way of looking at global warming is, if it gets too warm in the jungle, sea beans are Mother Nature's starter kits for new growth across the world. Thanks to (researcher) John Dennis, it's been proven that some sea beans can float for 30 years. I read something the other day I'd never seen before. A gentleman wrote and said a sea heart bean had sprouted in England. Sadly, it died in the first frost. That tells us the time wasn't right. But Mother Nature is constantly looking for more opportunities."
Ebbesmeyer arrived on the Space Coast earlier this week to collect interesting debris for his display table in Cocoa Beach. On Saturday morning, beachcombers will converge on the library after their traditional Bean-A-Thon contest to compare the most unusual items collected from the shoreline. Ebbesmeyer's thoughts will be with Cathie Katz.
"Cathie began scheduling her Sea Bean meetings in October because that's when the currents start bringing the seeds to shore," Ebbesmeyer says. "It's also the same month Columbus arrived in the New World -- she pointed that out to me.
"Cathie inspired me and a lot of other people. She had the guts in her 40s to quit a good-paying job she hated, to start something completely unprecedented, with no salary. She wound up turning out these terrific books that opened people's eyes to some extraordinary things, and she's with us still."
Sea Bean Symposium [2002] Where: Cocoa Beach Public Library, 550 N. Brevard Ave., Cocoa Beach. When: 9 a.m. to 5 p.m. Friday; 8 a.m. to 9 p.m. Saturday; Dr. Curtis Ebbesmeyer presentation at 7:45 p.m.


---
Copyright © 2002 FLORIDA TODAY