Mucuna sp. #006
The flowers of this species closely resembles
Mucuna membranacea
(see
links
, below).
The inflorescence and flowers of this species is very similar to those of
Mucuna lamellata
...but the pods seem to differ a bit.
Likely because the pollination mechanism (bats, birds, insects?) of this flower don't exist in Florida, where I'm growing it,
it has to be manually pollinated to get pods and seeds produced. See
manual pollination video
(in
.
mov format)
This seed is NOT a sea-bean, because it sinks in both fresh water and salt water!
It is presented here, for comparison, because it closely resembles other seeds which are sea-beans.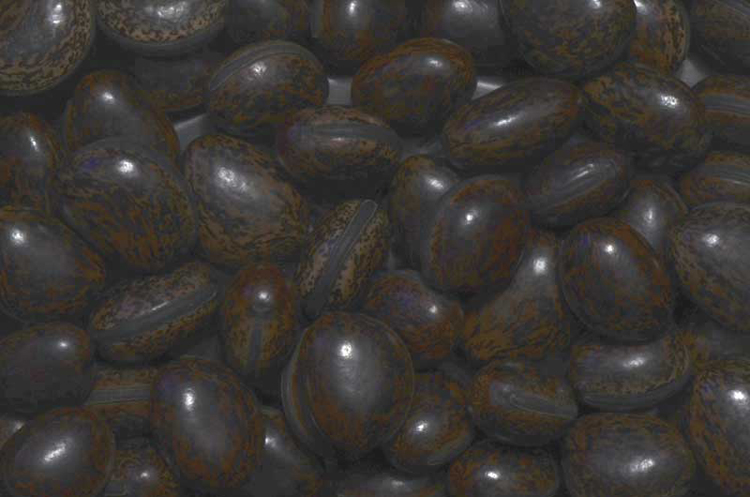 Mucuna sp. #006 seeds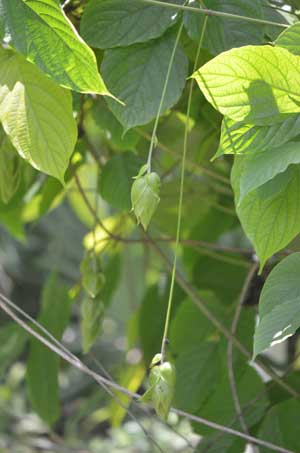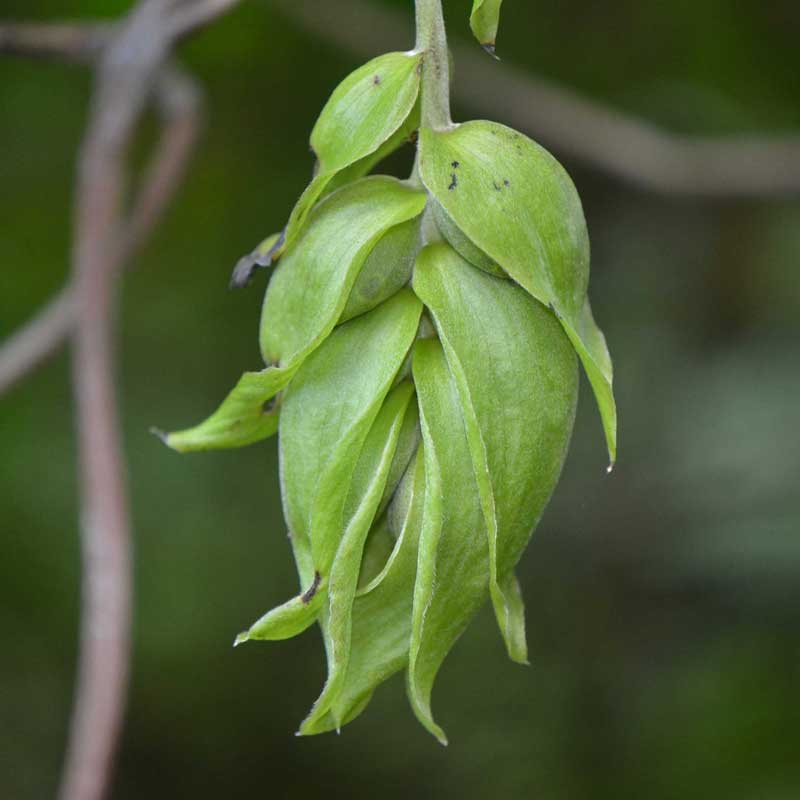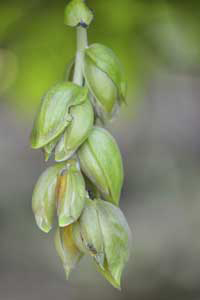 Buds, showing long peduncle (left) and closeup (center), and a young flower cluster (right) of
Mucuna sp. #006
.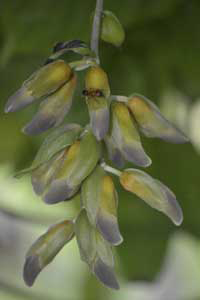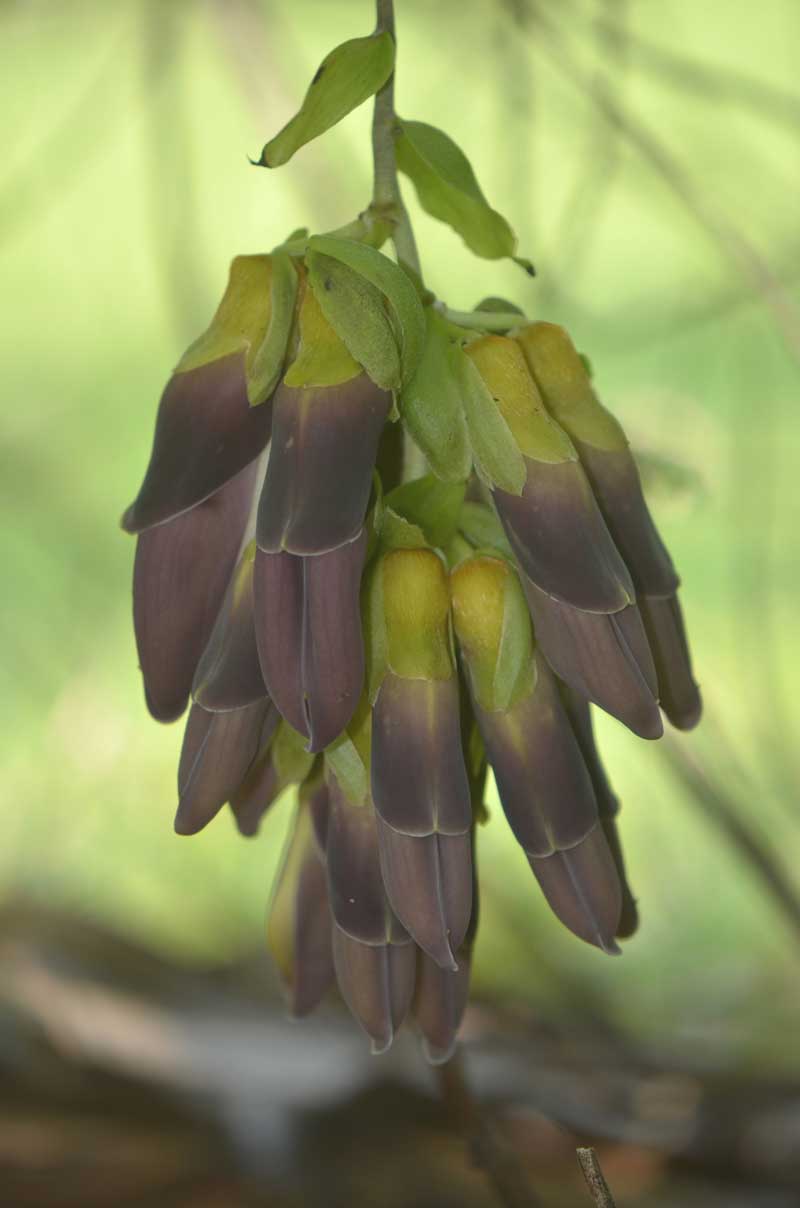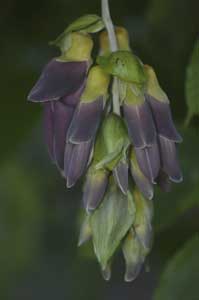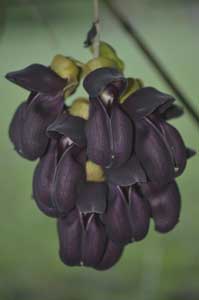 Various stages of flowers of
Mucuna sp. #006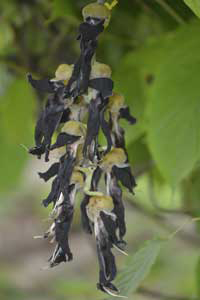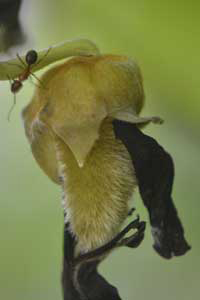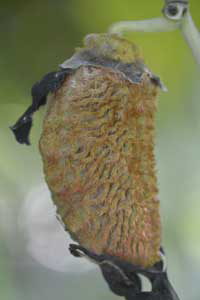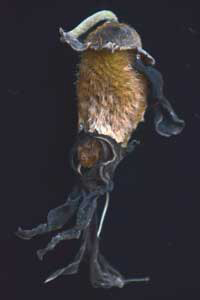 Pollinated flowers and resultant young pods of
Mucuna sp. #006
. Click 3rd photo from left for a high resolution image.
Note that the old petals(?) and the white style and stigma remain attached to the maturing pod.

There is definitely variability in the sculpture of the pods, but a general pattern is evident.
Left: Pod is 100mm long. Right: Larger pod is 120mm long.


Mature, dried pods.

Click above photos for a higher resolution (2448 X 3696) image.
NOTE: The seeds shown above were purchased from India as
Mucuna pruriens
. Knowing that they were not, I had to have them!
I didn't know if the seeds were from plants in India or if the vendor had obtained the seeds from elsewhare.
On Nov. 15, 2013 I found a
website for the Flora of Nilgiri Biosphere
(in India) which listed "
Mucuna pruriens
", which was an incorrect ID,
but they were these seeds! ...and the pod is strikingly similar! The vendor likely got his/her incorrect info and incorrect ID from this site.
Additionally, the pod shown on the Nilgiri Biosphere website looks nothing like a
Mucuna pruriens pod.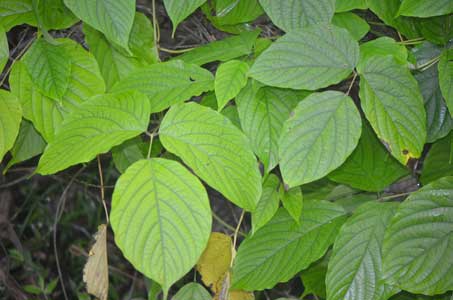 Leaves of
Mucuna sp. #006

On July 29, 2014 while tending my
Mucuna
plants, I noticed 5 new immature inflorescences! ...the most mature shown below.
All of my
Mucuna
plants have been growing "like crazy" due to the warm weather and almost daily substantial rains.
Note: the photos below are "clickable", to view a higher resolution image.

The 5 ft X 10 ft plot allocated to this species.


Trifoliate leaves
Note: each of the 3 "leaflets" comprise 1 "leaf".


Note the "pointy" tips of the leaflets.


Young inflorescence


Same inflorescence, side view


Stipels!
The tiny, spur-like growths at the base of each leaflet's petiolule
(which attaches the leaflets to the leaf's petiole).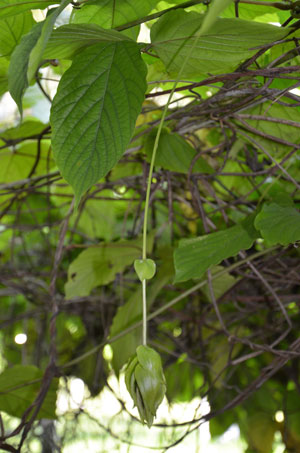 At the time of the photo, the peduncle length = 455 mm (nearly 18 inches; it's entirety not shown)
;
inflorescence length = 50 mm (nearly 2 inches)
In August 2014, ten peduncles were measured. The lengths averaged 509.1 mm and were:
261, 470, 500 520, 520, 550, 558, 560, 560, 592
Some photos of this season's first inflorescence!

Links